2 in 1 Wireless Pen Mouse for PC - Notebook - Tablet
 The Pocket Mouse is ergonomically designed for comfortable use, making it the ideal tool for people with arthritis and wrist pain. The ergonomic, pen-like style eliminates repetitive movements, allowing you to effortlessly write, click, swipe and scroll.
PLUG N PLAY:
The Pocket Mouse is a 2-in-1, plug-n-play wireless mouse that requires no software for installation. Just pop in the included 'AAA' battery, connect the USB 2.0 receiver dongle, and turn on the Pocket Mouse using the On/Off switch. The Pocket Mouse and the USB receiver are already paired and ready to use with your laptop, desktop and tablet. The Pocket Mouse seamlessly works with operating systems like WinXP/Win7/Win8/Win 8.1/Win10/Linux/Mac OS etc.

2-in-1 Use and Pinpoint Accuracy:
The Pocket Mouses 2-in-1 design works like a mouse, but looks&feels like a pen. Use it as an optical mouse with your laptop and desktop, or just flip Pocket Mouse over to use it as a stylus with your tablet. The responsive design also works just like a pen and replicates your and movements with pinpoint accuracy, making navigation and free-hand design easy and accurate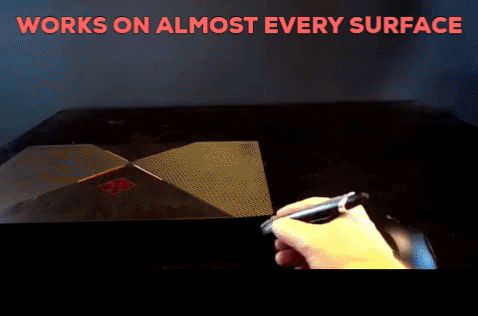 Resolutuin Adjustable DPI:
The Pocket Mouse comes with a 3-Resolution Adjustable 800/1200/1600 dpi (Dots Per Inch) optical sensor setting for smooth movement and control. The adjustable dpi allows you to select the right speed for use and gives you a comfortable, convenient and powerful user experience.
WHAT IS INCLUDED WHEN I ORDER THE POCKET MOUSE?
* 1 Pen mouse
* USB 2.4GHz receiver
* 1 Mount
WHY SHOP WITH US?
Because we pay particular attention to the choice of our products.
They must be innovative and very good quality.
Our items are tested and approved by our service.
We are passionate and we make every effort to make you happy!