Flame Effect Light Bulb
Sorry, currently out of stock
The LED Flame Light 
Bulb will light up your life in ways that you probably never experienced before! With its orange flame hue, it's the perfect adornment for homes and spaces that exude peace, romance, and serenity.
It doesn't matter if you use the LED Flaming Bulb for a dinner date, a meeting, a group study or a typical meal with family; this unique light bulb is guaranteed to delight your visitor or start a conversation.
Dynamic Moving Flame
Three gear adjustment
Simulate Nature Fire Flicker Flame, but flameless
Safe & Energy Saving Of Led Light Source
Replacement of Traditional Gas Lantern, Ex Retrofit Oil Lamp, Hurricane Lamp
Atmosphere Mood Lamp
Decorate Your Space with its Orange Warm Flame Color
Give You A Peaceful Romantic and Relaxing Moment
Help you to sleep easier
Take Off the Loneliness From Your Soul (psychological proof)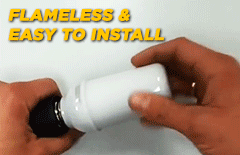 Product Type: LED Flame effect Bulb
Shell Material: PC (Resistance of 105℃)
Wattage: 3 watts
Color Temperature: warm 1300-1400k; blue 420-425nm
Luminous Intensity: 650 lumens
Beam Angle: 360 Degrees
Size: Diameter 60mm x Height 130mm
Package Includes:
1 x
LED Gravity Effect Fire Light Bulbs
WHY SHOP WITH US?