Spill Proof Bowl For Kids

A UNIQUE BOWL FOR YOUR BABY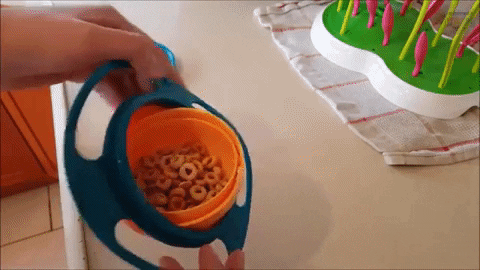 Our product is a bowl, in the shape of a colorful UFO, and is completely spill-proof. All thanks to its incredible 360 degrees gyroscope construction. No matter which way you turn it, spin it, flip it, the bowl always stands upright. Give it a try...Pick it up by the handle and flip it upside down.
Created with the baby's safety in mind, not only is this going to be a savior at the dinner table, but it's durable, BAP-free polypropylene material makes this 100% safe to eat from, and it also heat-resistant. You'll find that the handle moves, but the bowl never does.
KEY BENEFITS OF THE SPILL-PROOF BABY FEEDING BOWL
 UNIQUE DESIGN: Our product is great for babies and kids to have fun while they eat but without the mess. Easy-grip handles allow kids to hold the bowl without much effort. Babies love snacking out of this Spill-Proof Baby Feeding Bowl. 
 EASY TO CLEAN: Made of food-grade PP material, safe for your kids to use. Easy to clean and dishwasher safe, just wash it gently in warm or put it in the dishwasher. Made out of heat-resistant, BAP-free and PVC-free.
 SPILL-PROOF: Anti-spill design, the inner bowl with gyroscopic motion can rotate 360 degrees to keep dry food inside and avoid food spilling. With this unique design, kids can reach into the bowl for their favorite snack without making a mess.
WHY SHOP WITH US?