Vegetable Fruit Spiral Knife
Sorry, currently out of stock
Make Interesting Dishes Only 3 Second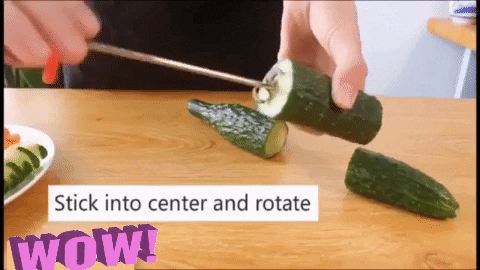 Add fun and variety to cooking boring vegetables, suitable for cucumber, zucchinis, sweet potatoes and more, create a variety of creative cuisine. Perfect for health-conscious individuals and families!
FEATURES
This Rosetiny Vegetables Spiral Knife Carving Tool turns vegetables into stunning salads, or use it to prepare veggies for stir fry dishes, makes eating veggies fun for picky kids! 
Made of fine materials, sturdy kitchen tool quickly. BPA-free professional-grade, heavy-duty reinforced food grade ABS for superior break resistance.
The smooth surface is an easy-to-use kitchen cleaning tool
Simple and easy to use spiral twist knife, easy to operate, easy to shape, creative dishes do as you like
HOW TO USE
Remove the top and bottom of the fruit or vegetable to make it like a pillar shape
Plug the tip of the pulp roller in the middle, and gently spin it in one direction as the ring blade goes deeper
Finally, when it penetrates the spiral pulp is made, and you can either push it out or cut the fruit skin and take it
PACKAGE
1 x Vegetables Spiral Knife Carving Tool
WHY SHOP WITH US?
Because we pay particular attention to the choice of our products.
They must be innovative and very good quality.
Our items are tested and approved by our service.
Safe payment methods
Free Shipping on all orders